It is week two of the Ever to Blog series and I have not fallen off the wagon yet. That, for me, is saying something and if you read last week's blog you will understand why. Part of why it is so easy to continue is that Auburn Athletics is finally getting into gear. That also means the season is about to start fully again at the E2C Network. Unless you have been living under a rock, you know what time of year has arrived. The beginning of fall football practice means a wave of excitement and anxiety is hitting us as we wonder what the season holds.
While football is important and will hold most of our attention, my hope is that this season you will turn your attention to teams other than those throwing a pigskin. All that aforementioned excitement and anxiety you have bottled up for football, maybe transfer some of that over to, let's say, soccer. The 2017 Auburn women's soccer team will need all the support you can give after losing a great deal of talent from last year. Let's not forget that cross country will also be beginning soon. Have you ever heard of Brenda Kigen? No? Then I recommend we familiarize ourselves with the many Auburn Athletics athletes and programs taking the respective fields this fall.
E2C Network Highlights
Blog by Austin Scott. The first of what we plan to be many pieces by our new featured writer. Austin has a knack for provided fact-based analysis with just the right amount of personal opinion. Some of the questions he asked might be obvious, but his take on each each one is refreshing. My favorite and most intriguing question he proposes is if Auburn has potentially one of the best secondaries in the country. It's also not a coincidence that you might being seeing other media entities offering up their burning questions this week as well.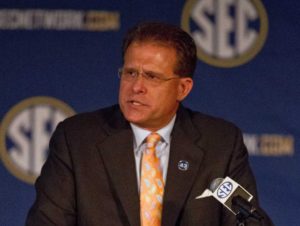 Podcast episode with co-hosts AJ Richardson and Ben King. Your favorite Auburn football podcast personalities have returned to tackle another season (pun intended). This is actually an episode they tried to get out a week earlier. As so often happens in the podcast world (the E2C Network is not immune to these things either), equipment malfunctions can wreck havoc with our plans. Nevertheless, one week extra off has only benefited the guys as they fire away with the hot takes on Auburn football at SEC Media Days. My favorite moment of their show is this only slightly far-fetched idea: Daniel Carlson for Heisman!
What's On My Mind?
As is so often the case, kick-off times were announced for the first few games of the 2017 Auburn football season. Much to my surprise they were all afternoon/evening start times. Selfishly, this is a good news for yours truly as I now have a better chance to attend one of these early games. Georgia Southern will start at 7:30, Clemson at 7:00, and Mercer at 4:00 (all eastern times). That first game, albeit against a minor opponent, will be rocking under the lights of Jordan-Hare!
Bruce Pearl has changed the culture Auburn basketball (Image via jta.org)

Men's Basketball Playing in Europe
The continuation of what I have termed the Bruce Pearl effect keeps surprising me with its longevity. This concept is the intangible ability of Coach Pearl to transform not just a program, but the opportunities it receives. Never in my wildest dreams did I see Auburn playing Oklahoma and Uconn in the regular season, much less defeat both powerhouse programs. The same goes for this trip to Europe, granted this isn't the first time Auburn's men's basketball program went overseas for pre-season. However, do you think Tony Barbee would have ever taken the opportunity or even received an invitation? Not this guy! 
Parting Questions
What is your number one burning question that must be answered for this Auburn football team?
What would it take for Daniel Carlson to be invited to Heisman ceremony in New York?
Which football game are you most likely to attend from the three announced start times?
What's the next big opportunity that Auburn men's basketball will offer with Bruce Pearl at the helm?
Continue the conversation! Submit you responses in the comment section below. Until next time, War Eagle!
Kyle Loomis
E2C Network Editor-in-Chief