Our weekly recap of each Auburn football game will be "Thumbs Up, Thumbs Down." Instead of grading each area of the team and how they performed, we'll take a quick look at what happened and how we see it moving forward.
Jordan-Hare Stadium had the SEC home opener this past weekend with a highly anticipated matchup against Mississippi State. Both teams came into the game with mixed performances over the last few weeks. Many said that this weekend would be a turning point for the rest of the season based on this game. How did the various units do for Auburn? Thumbs are given out below:
OFFENSE
For the second straight week, the Auburn offense looked dominant. For the third time this season, the offensive unit racked up over 500 yards with seven touchdowns. 49 points later, the Auburn offense propelled the team to their second straight Southeastern Conference victory. This week's performance gets them another two thumbs ups.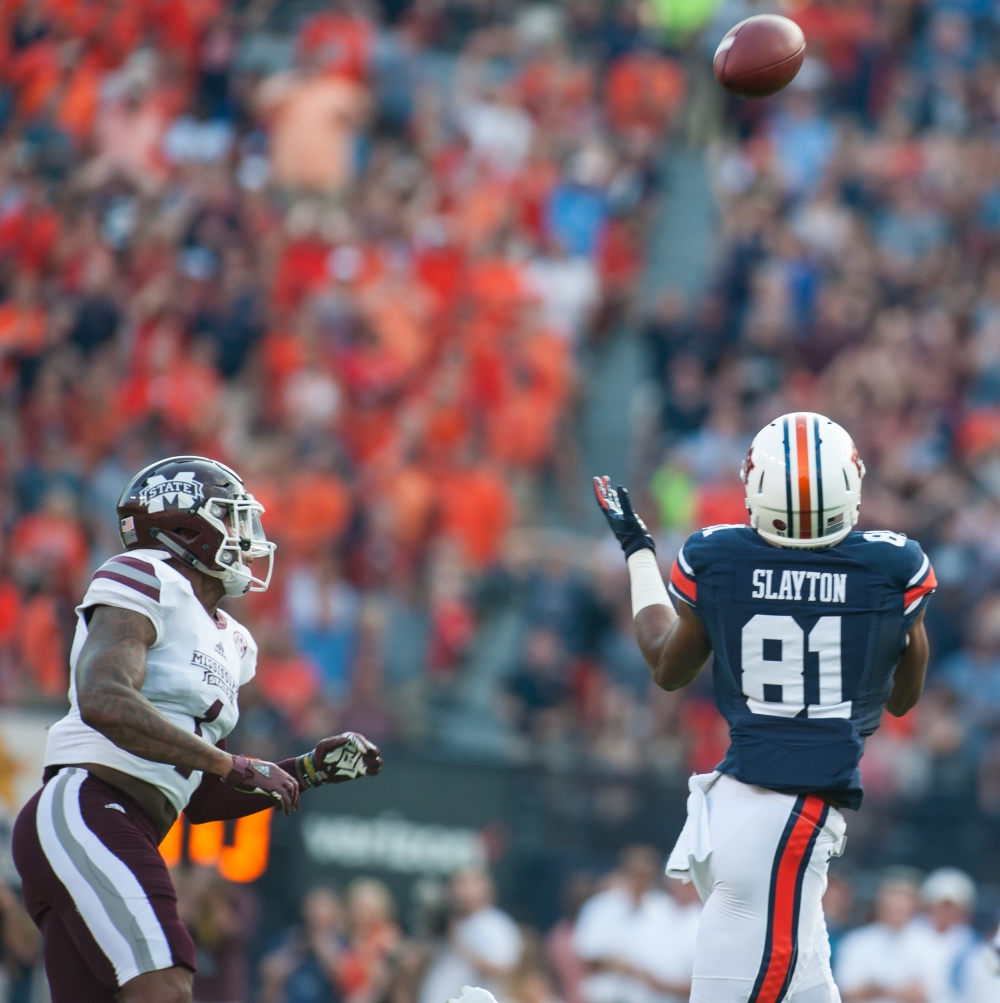 Many thought that Auburn would finally get both of their star running backs 100% healthy for the same game again. Alas, it did not appear so. Kamryn Pettway only had 5 carries for 6 yards. Kerryon Johnson scored three touchdowns, totaling eight in the last two weeks. Even with the scores and his 116 yards, Johnson did not seem fully healthy. Eli Stove continued to get jet sweeps around the outside for big yardage (he had one for 30 yards Saturday). Auburn seems to be doing fine with the two not at full health, but will the passing attack and minimal rushing be able to sustain the offense? Will they have to rely on the younger backs? Time will tell, but so far so good.
This was the best game the wide receivers and offensive line have played all year. Jarrett Stidham was able to relax in the pocket, wait for the receivers to go through their routes, and hit them almost perfectly each time. That is the Auburn offense that so many fans expected to see in the offseason and have waited on. Five weeks into the season, it looks like things may be clicking on all cylinders.
Stidham was awarded SEC Co-Offensive Player of the Week after his 264 yards and two touchdown performance Saturday. His completion percentage this year is 72%, and he seems to finally be finding his groove with the receivers. Auburn fans have good reason to be excited.
DEFENSE
Another week, another two thumbs ups for the Auburn defense. Mississippi State quarterback Nick Fitzgerald is one of the most dynamic athletes in the conference. After his performance against LSU, many in the SEC were on high alert. The Auburn defense prepared well, and, for the most part, were able to handle him.
Fitzgerald totaled 213 yards with a touchdown, but was intercepted twice on two tipped balls by Tray Matthews and Javaris Davis – who returned his for a touchdown. Auburn only got to the elusive quarterback to sack him once, and it was none other than Mr. Consistent: Jeff Holland. Even without a sack, redshirt freshman Nick Coe totaled 6 different tackles and earned himself SEC Co-Freshman of the Week.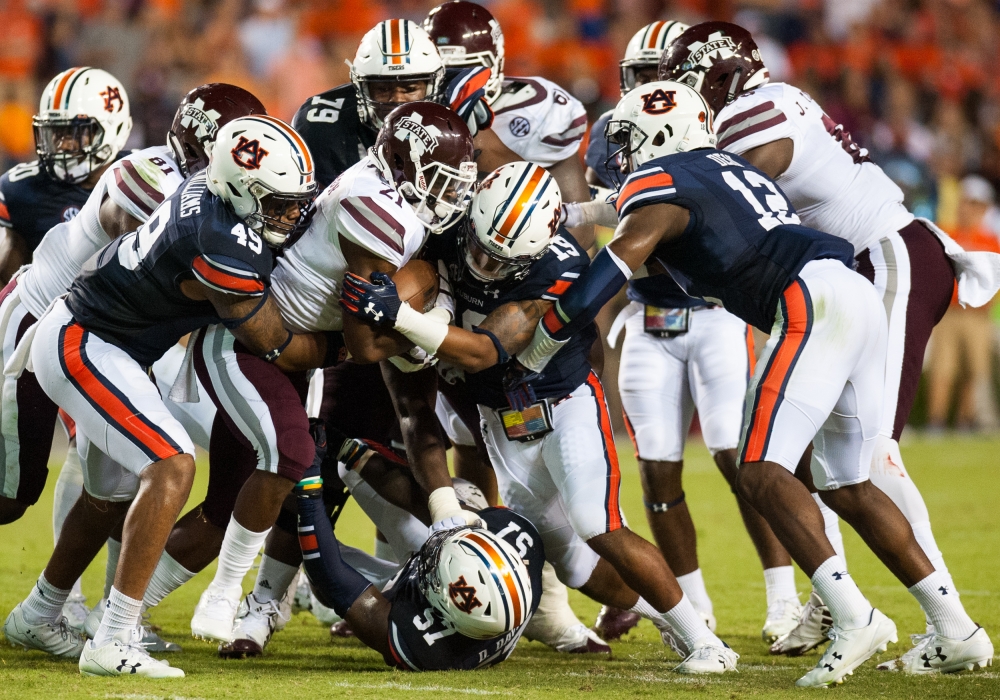 The talent and depth on Auburn's defensive line continues to show as the season progresses. Auburn gave up 351 yards on offense, their highest of the season, but still not enough to knock them out of the Top 10 defenses nationally. They sit at #9 nationally, giving up just over 259 yards per game. It was pointed out by former Auburn lineman and SEC Network analyst Cole Cubelic after the game on Saturday that "Auburn is the only remaining team in FBS to allow 14 points or more in every game so far this year." This defense is rock-solid.
Another talented quarterback and Ole Miss come to town this weekend for an early kickoff. Regardless of what the Rebels do or do not have to play for this year, they would be more than happy to catch an Auburn team not quite awake yet. The Tigers, like every game, will need to be ready and prepared.
SPECIAL TEAMS
This will be the first time this season the special teams unit gets a thumbs down. For whatever reason, Daniel Carlson gets some jitters at home. Carlson is 3-for-7 inside the friendly confines of Jordan-Hare Stadium, but is a perfect 5-for-5 on the road this year. Auburn fans are starting to become incredibly worried about their beloved kicker and all-time leading scorer. It may not seem like it with a red-hot offense right now, but Auburn and Carlson need to get things back on the straight track. His value to the team is undeniable.
The major shake-up in the punting realm this week was that Ian Shannon did not punt, and as far as we know, it had nothing to do with injuries. Freshman Aidan Marshall punted three times with a long of 47 yards. The punting competition still seems to be ongoing and very real at Auburn. Once again, it may not seem like a huge issue right now; Auburn will need a strong special teams unit as they get into these heavier conference games in October and November.
NEXT WEEK: Ole Miss
Auburn fans will have to either wear their pajamas to the stadium on Saturday or start tailgating a little bit earlier. The first 11:00 am kickoff of the year is Saturday when the Ole Miss Rebels come to town. There's lots of reasons to overlook Ole Miss, but Auburn should be just as hungry to get a win as they will be on Saturday. We'll hand out plenty of thumbs next week after evaluating the Tigers on Saturday.
Fearless and True; Forever Orange and Blue,
Austin Scott
Featured image via Gladiator