Our weekly recap of each Auburn football game will be "Thumbs Up, Thumbs Down." Instead of grading each area of the team and how they performed, we'll take a quick look at what happened and how we see it moving forward.
Auburn welcomed the Ole Miss Reb — uh, Bea — uh, LandSharks into Jordan-Hare Stadium this past weekend. The Tigers are halfway through the 2017 regular season. After defending their home field soundly, it's time for this week's thumbs to be given out.
OFFENSE
This Auburn offense did two things for the third straight week. First, they scored 40-plus points in three straight SEC games for the first time ever in school history. Second, they got two thumbs up! Say what you want about the opponents being played, but this Auburn offense is clicking on all cylinders. The Tigers have outscored those same conference opponents by an average of over 32 points. Part of that can be contributed to the defense, yes, but Chip Lindsey's crew is putting up points, and quite a few of them at that.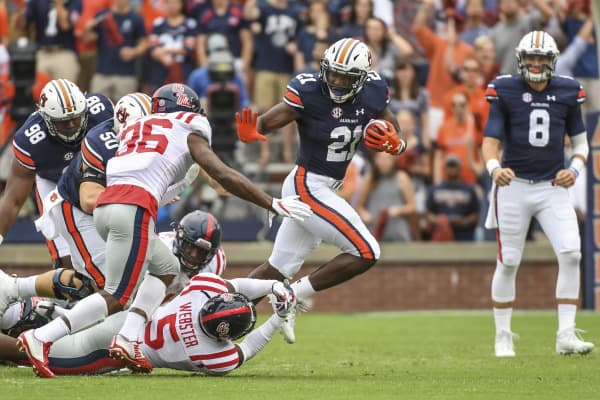 The college football world hasn't quite seemed to notice him yet. Auburn fans love to watch the ball handed off to #21. Kerryon Johnson, SEC Offensive Player of the Week, continues to light up the field. With twelve total touchdowns, eleven of which coming in the last three games, Johnson is performing in Heisman fashion. The major questions moving forward pertain to Johnson's health and if his performance will continue. A hamstring has been the primary issue, but Johnson believes he will be 100% for the trip to Baton Rouge. That coupled with the coaches determining that the only way to get Kamryn Pettway healthy is by holding him out, Johnson will continue to be the main workhorse. So far, he seems to be taking on the role with ease. LSU is giving up 137 rushing yards per game. Johnson and an improving offensive line could make that number much higher.
Jarrett Stidham had another quiet, but efficient game throwing the ball. His completion percentage slipped a little, but he was still able to complete two-thirds of his passes for 235 yards and 2 touchdowns. His next test will be a big one this weekend, as LSU consistently has major athletes in the defensive secondary.
DEFENSE
What's new? Two more thumbs up for the Auburn defense.
"But they gave up a season high of 23 points? To Ole Miss? Ole Miss only scored 3 on Alabama last week!"
Yes, very true. Both touchdowns scored by Ole Miss in the fourth quarter were against a defense that had  true freshmen on the field. Alabama also had their freshmen in last week against Ole Miss, but Alabama consistently has the top ranked recruiting class as well. That's not to say that Auburn's freshmen aren't talented, but no one should be complaining about the young guys getting experience.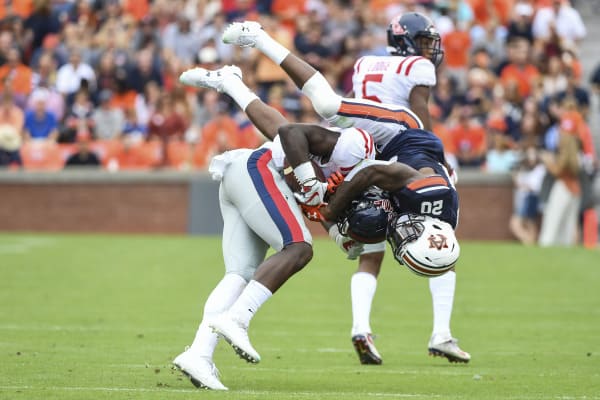 Shea Patterson is one of the more underrated quarterbacks in the conference, but Auburn handled him fairly well. Patterson threw the ball 51 times for 346 yards (nearly 100 yards coming in the fourth quarter) but Auburn's rush defense helped lead the Tigers to victory.
The dynamic duo of Derrick Brown and Jeff Holland combined to sack Patterson once. Immediate passes from the Ole Miss quarterback kept the defensive line from having enough time to get into the backfield. Against a non-mobile quarterback like LSU's Danny Etling, Auburn's staunch line should be ecstatic at hopes of racking up big numbers.
Auburn has not won in Baton Rouge since Tommy Tuberville, Rob Pate and another incredible defense smoked cigars inside Tiger Stadium. Some of the younger members of the Auburn team very well could not have been alive the last time these Tigers won on the road at Death Valley. This defense will need to continue its dominance in order to break the 18-year streak.
SPECIAL TEAMS
Aidan Marshall started the game at punter and, while he was only called on three times, he did well. Marshall had a long of 43 yards – the longest of his short career. One could assume that Marshall will be called on more this weekend in a hostile environment.
Major congratulations to Daniel Carlson. After three field goals and five extra points, Carlson became the all-time leading scorer in SEC history. He became Auburn's all-time leading scorer a couple weeks ago, leaving no doubt that he is the best kicker the Tigers have ever had. Now, he is in fact the best place kicker the SEC has ever seen. With at least 6 more games to go, he'll be sure to extend his lead plenty. Carlson currently sits tied for 20th in all-time NCAA FBS scoring. Carlson is 117 points behind Navy's Keenan Reynolds for first place. Even if he reaches his average points scored the previous three years of his career, Carlson will land around 5th or 6th place.
Carlson's achievement and Marshall's punts earned the special teams unit two thumbs up.
NEXT WEEK: LSU
Auburn heads to Baton Rouge this weekend to attempt to do something they have not done in eighteen years. They face an LSU team who lost to Troy at home, but upset Florida on the road this past weekend. Which version of the Cajun Tigers will Auburn get? Will they be prepared for either? A win in Death Valley would instill lots of confidence in this team as they prepare for a few more upcoming road games.
Fearless and True; Forever Orange and Blue,
Austin Scott
Featured image via Gladiator