Dear Mr. Jacobs,
I want to say thank you.
Thank you for impacting my life and thousands of others' lives in a positive manner. The little things that you did during your tenure as athletic director may go unnoticed by most. But I refuse to be one of those. I remember the day I met you and how you changed my life for the better.
December 8th, 2014. I had sent you an email asking if I could come meet you and share my story with you. The first little thing you did was simply respond to me. About two weeks after I had sent the original email asking if I could meet you, December 20th, I opened my email inbox to see 3 emails: one from Costco wholesale, one from LinkedIn, and one from Jay Jacobs, Athletic Director at Auburn University. For a freshman being thrown into this big school where I was just another number, that email meant the world to me before I even opened it. Once I eventually opened it, you told me you would love to sit down and meet me and to simply make an appointment with your secretary.
I sent your secretary an email and the meeting was planned for January 26th, 2015 at 2:00 PM. I walked into the athletic office absolutely clueless what I was doing and what I had even requested the meeting for. I have learned since, meeting with a freshman non-athlete is not exactly at the top of the totem pole of priorities when you are an Athletic Director at an SEC school. Nonetheless, I was directed to the AD office, where I signed in with the secretary and waited. At 2:00 PM sharp, you greeted me, shook my hand, and invited me into your office to have a seat.
From there we started with the small talk: why I was interested in becoming an athletic director, and, of course, my brain bleed story arose through that discussion. As I proceeded to tell the story of my injury, I noticed something: Mr. Jacobs looked me dead in the eye the entire time and never looked away. I had his full attention and he cared about what I had to say. After I finished telling my story, you proceeded to tell me a little about yourself, your wife Angie, your three kids, and your foster kids. Before I could realize it, I had been in there an hour and a half. The entire time you had focused 100% on me and given me your full attention.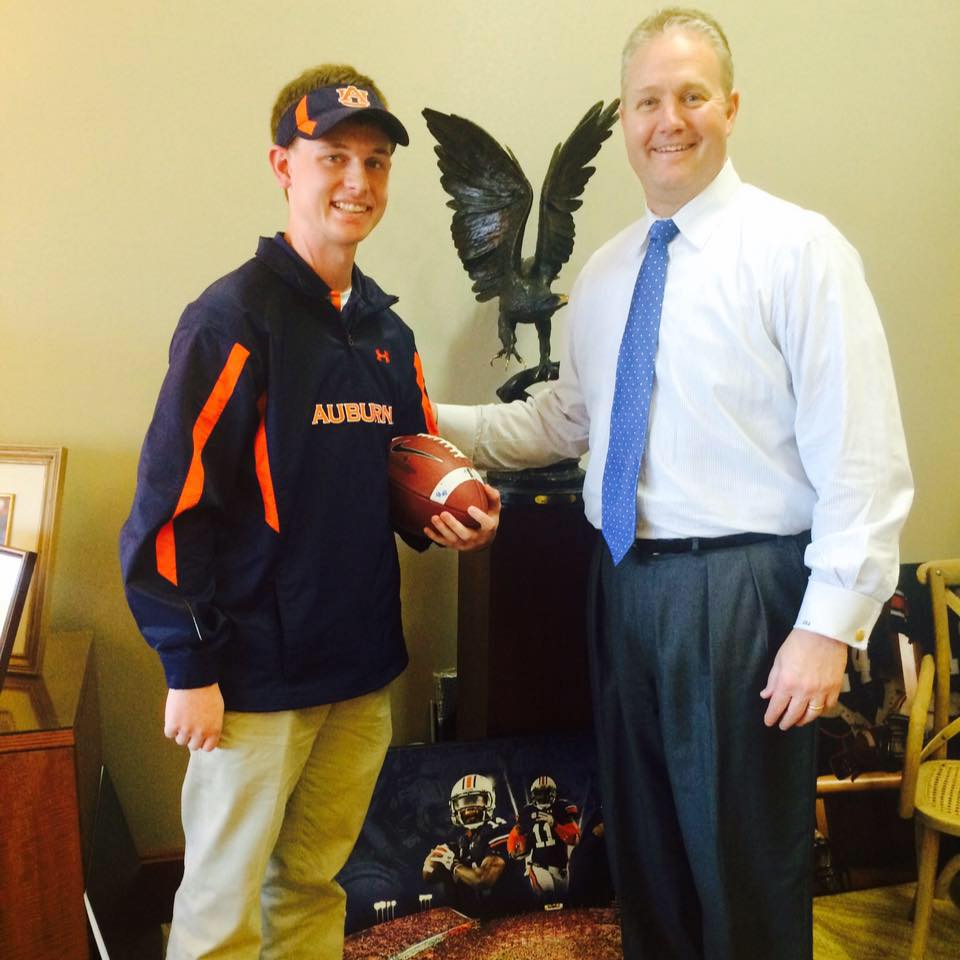 As we finished our discussion, you did two things I will remember until the day I die. First, you went over to your desk and opened a drawer with a football in it. You handed the football to me, and I was curious at first why. You proceeded to say, "You know that football was used on the last play of our last home game in 2013?" My little brain was trying to think what game that was. Then it hit me like a ton of bricks. And you think you have seen me smile before?? I can go ahead and say that Jay Jacobs witnessed one of the biggest smiles I have ever smiled when I finally realized what football I was holding. You had handed me the ball used in the play of the Kick Six and then said, "Well… you think you should get a photo with it?" I was quicker on my toes on that response with an immediate "Yes Sir!" You took a few photos of me holding the ball, then called your secretary to take a picture of the two of us.
After you finally pried the ball out of my hands, because the Good Lord knows I wanted to keep that thing for my room, you asked me to walk with you. This is the second and far more important thing I will never forget. You brought me to Coach Gus Malzahn's office. Even though Malzahn wasn't there that day, you wanted me to see his office. As we were standing there, you proceeded to pull a coin out of you pocket and gave it to me. You gave me a challenge coin, and told me you only gave these to individuals who proved toughness and an excitement about life that was rare.
I was then challenged to strive for whatever goal I may have, at which time my big mouth said, "Sir, I would actually like to steal your job here in about twenty years after I work my way up the totem pole." We both had a big laugh over that comment, and then you said, "You are going to be able to do whatever you put your mind to."
At this time, you put your hand on my shoulder and asked me if you could say a prayer for me. Mr. Jacobs, you said one of the most amazing prayers I have ever heard, followed only by a big hearty "Amen" from the two of us. I put the coin on my keychain that day, and it has not left. As we walked out of Coach Malzahn's office and walked back into the lobby, you told me to have a blessed rest of my day and to never be scared to let you know if I needed anything.
I walked out of the Athletic Department that day feeling ten feet tall and with a huge smile on my face.
Mr. Jacobs, in my opinion, does not deserve this at all. Unfortunately, nobody asked me and I have very little say so on the matter. But I wanted to explain to everybody why I am such a fan of Mr. Jacobs. It has been just under three years since that email, but I have grown incredibly as a person and an Auburn Man. Who knows where I will be in twenty years, but I can tell you where one man will be. Jay Jacobs will land on his feet somewhere and be just fine. Jay Jacobs is a great athletic director, but an even better Christian Man.
Everyday since January 26th, 2015, no matter if it was in Auburn, Alabama at Plainsman Park, or the Wellness Kitchen, or Oklahoma City, Oklahoma at the Women's College World Series, Mr. Jacobs has greeted me with a smile, a handshake, and a friendly, "how are you doing brother?" Jay Jacobs not only had the job I want when I am older, but he also exemplifies the man I want to be when I get older. I want to be a great Christian husband, father, and friend. Jay Jacobs is all three.
Mr. Jacobs, for these reasons and so much more, I want to say thank you.
War Eagle Forever and Always,
Chandler Fullman